Reliance and self-reliance: The Week That Was 10-14 August
This week we slightly changed up the model for The Paper and The Paper Wrap. Rather than doing one story every weekday, we are doing two big stories a week. And rather than simply using the wrap to tell you what we've written about, we'll also use it to do a roundup of developing stories, and interesting India business news.
This is what we actually wrote about in The Paper:
We analysed a few recent deals by Indian IT services companies, to see what they meant by "digital transformation". It appeared uncannily similar to classic IT services business. Then we looked at what digital transformation actually is, including some guru quotes. We could say that there is very little overlap between the two.
And as soon as we had sent out that edition, a reader sent us this website with amazing cartoons about digital transformation. This one is apt.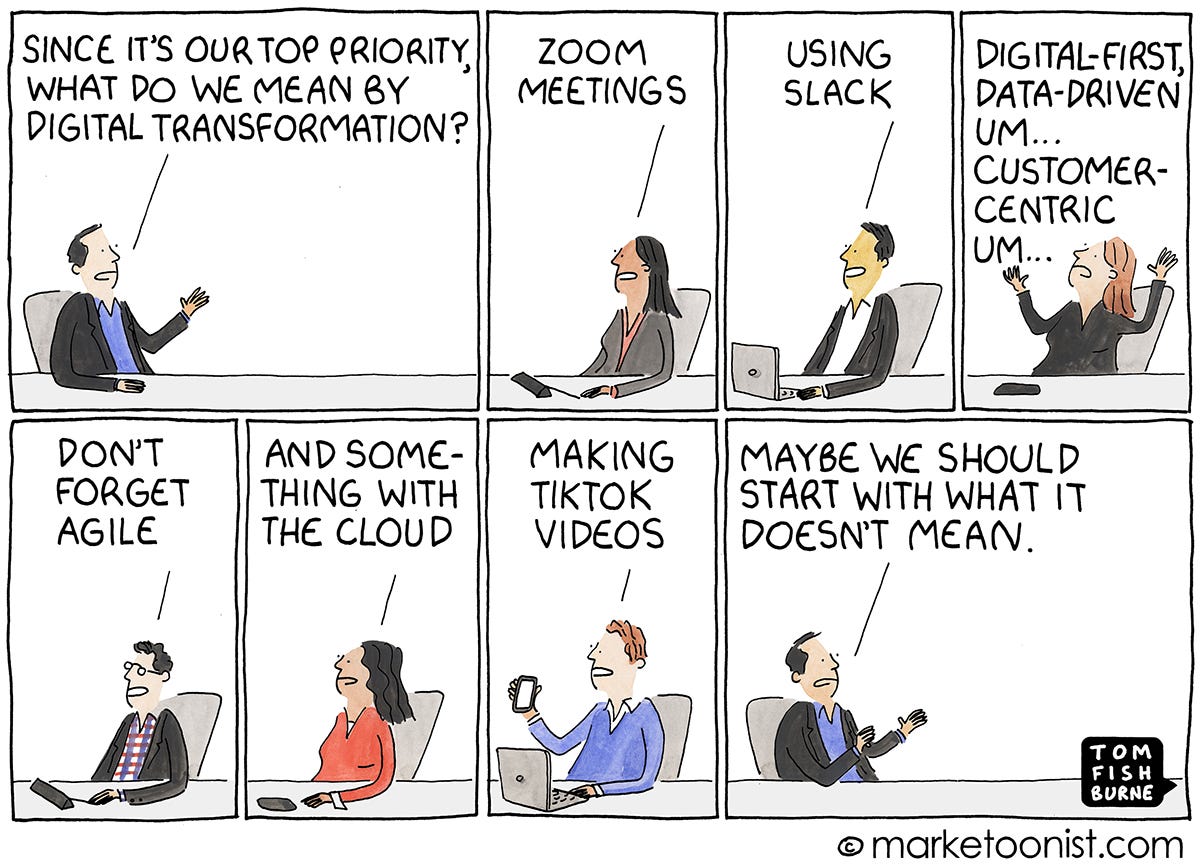 This has been a recurring theme at The Paper ever since we started, and we took this opportunity to see how some businesses, and consumers, are "doing the same thing in different ways" in the wake of the pandemic.
And rather than hiring and firing at this time when job markets have slightly seized up and become less liquid, companies are retraining people to do different things. Recruiters are doing sales. Editors are doing customer service. Some companies are "put everyone through training in all verticals". Wonder how that will work out. 

One of the reasons why economic disruption results in job losses is that the set of jobs available after the shake-up is different from the set of jobs people are willing/able to do. In-house training at large(ish) companies seems like a good way to bridge this gap.
Oh, and going by a report we quoted in that piece, India seems to be the only major country where people are spending MORE on alcohol than earlier.
Happenings in and around the country
This is the new section of the Paper Wrap we spoke about where, we wrap much more than what we wrote in The Paper this week.
Everything is financial derivatives
Remember the India-China conflict in Ladakh? India retaliated to China's aggression by banning Chinese apps from operating in India. Goods from China were subjected to extra customs controls. There was speculation if the mobile phone maker Vivo would be banned from being the title sponsor of the IPL.
The ban proved to be unnecessary, as Vivo itself backed away from sponsoring the IPL. Logical, we would say. When people are boycotting your products due to the country of origin, there is no use advertising it. The interesting bit is that Vivo seems to have backed out only from this year's deal. They will continue to honour their contract, as of now, to be title sponsors for IPL 2021 and 2022.
We didn't know this kind of optionality was possible in contracts like this one. Maybe we now have a new theme for The Paper - everything is financial derivatives. Meanwhile, the bids for sponsoring this year's IPL are in. Tata Sons, Jio Platforms, and two ed-tech firms are in the fray. Also in the fray is consumer goods upstart Patanjali, which started life as a yoga studio (well, approximately). The last has led to some funny stuff on the interwebs.
Defence 101
India has decided that over the next five years it will ban imports of 101 (an auspicious number, for sure) defence items. The banner of self-reliance is being used to justify this ban. Mint has produced a comprehensive list, along with possible dates from which their imports will be banned.
Faceless but not baseless
India has decided to make tax compliance more transparent. A "faceless assessment scheme" has been launched. Here is some expert analysis on why it has been launched. And the Finance Ministry will sure win some bingo competitions:
Finance minister Nirmala Sitharaman said CBDT has put in place a platform to realise Modi's vision to empower taxpayers. "It uses, data analytics and AI... it eases compliance burden and brings in a fair and just system," she said.
Reliance
There are two things that always make business news in India nowadays - self-reliance and reliance. India's largest company is at it again - apparently now it wants to buy the India business of TikTok, just like how Microsoft wants to buy the US business. Remember that TikTok is among the numerous Chinese apps banned in India. Indian Express thinks Reliance will pay $5 billion for this. TechCrunch thinks it will pay $3 billion.
Price aside, the most brilliant feature of TikTok is its algorithm. So we're not sure what "buying India business" means. Will they get the business with the algorithm or without? Is TikTok's algorithm like Coke's formula? You might remember that Coke was shunted out of India in 1977 after they refused to disclose their formula.
Meanwhile, Reliance has also got dragged into the Telecom AGR battle. So far, its biggest competitors Airtel and Vodafone-Idea were at the receiving end of this battle, and Jio was happy to sit aside and cheer. Now the judges have asked why Jio shouldn't pay the dues on behalf of RCom (whose spectrum it acquired).
That's it for this week.